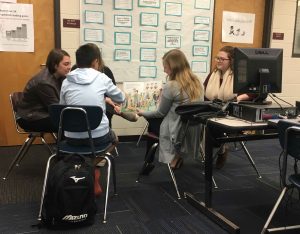 The Deaf and Hard of Hearing (DHH)/American Sign Language (ASL) Educational Outreach program was established in Fall 2018.  Advanced FSU students are matched with partnering programs to provide various types of support such as tutoring, classroom assistance, and the provision of professional development presentations.  These positions provide guided opportunities for FSU students to work with d/Deaf individuals and other stakeholders, while supporting our local community.  Students must apply to the outreach program and are selected based on demonstrated academic performance, professionalism, and if applicable to the position, ASL signing skills.  Students may utilize these positions towards the volunteer requirements of the ASLHS, and must register for the associated Applications of Research (SPA 3801) course during the first semester which they volunteer.
The Educational Outreach program is overseen by Dr. Kristen Guynes, who maintains her teaching certifications in Deaf/Hard of Hearing Education and American Sign Language (K-12), as well as nationally as an educational interpreter.
If you are interested in becoming a partnering program, please contact us!
Projects and Presentations
Guynes, K. and Minall, D. (2019, November 13). Working with Deaf and Hard of Hearing Individuals in Future Careers. Presented for Hands of Hope student organization at Florida State University – Tallahassee.
Guynes, K. (2019, August 6). Working with Deaf and Hard of Hearing Students in the Classroom. Presented at Swift Creek Middle School – Tallahassee, FL.