Welcome to FSU's ASL Club!
The purpose of the ASL Club at Florida State University is for students to facilitate awareness of ASL while developing their own skills and knowledge. The main focus is to encourage students to practice sign language in an active group setting. Members of the ASL Club will participate in ASL based events and gatherings. As a club, we will gradually learn more about Deaf culture through interpersonal interactions while acquiring ASL skills. The club is open to all FSU students who are interested in learning and getting involved with the language and culture.
The American Sign Language Club is a separate organization from academic-based ASL programs including Signing Seminoles, the ASL Honor Society, and the DHH/ASL Educational Outreach program, although the ASL club does collaborate closely with the Signing Seminoles program, offering opportunities to engage in voice-off activities, thus promoting immersive acquisition of ASL.
Meetings for the ASL Club are every month on the third Thursday of each month at 5pm at various locations. At meetings, we update members on various happenings and events of the club as well as take time to teach some signs. We have members of varying ASL background, so we are sure to incorporate both introductory level signs as well as more advanced signs to accommodate all levels. In addition to our monthly meetings, the ASL Club hosts various events throughout each semester to allow students to come into contact with the language in various contexts. Many of these events are themed to the season around the time at which it is hosted and we teach holiday and seasonal signs. The ASL Club hosts events individually, which are voice-on (you get to use your voice), as well as collaborates with Signing Seminoles, to host events that are voice-off (where only visual communication is allowed), to, again, allow students a variety of ways they can get involved in the language.
Contact the ASL Club at: asl@cci.fsu.edu
Meet your 2019-2020 ASL Club Leadership!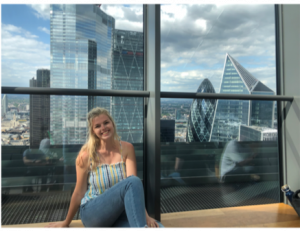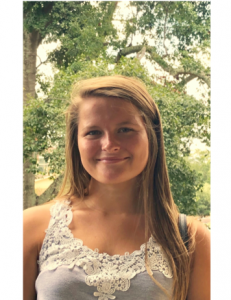 Amanda Prozeralik – President
Amanda is a junior at Florida State University from Naples, FL. She is majoring in Communication Science and Disorders with the goal of becoming a pediatric audiologist. At FSU, she is involved with Kappa Kappa Gamma Sorority, Student Academy of Audiology, and National Student Speech Language Hearing Association. In addition to being the president of the ASL Club, this year she will be participating in the DHH educational outreach program at Swift Creek Middle School. Amanda is excited for this upcoming year and all that the ASL Club has to offer!
Kate Briley – Vice President
Kate is a current senior at Florida State University majoring in Communication Science and Disorders with a minor in Child Growth and Development. She is the Vice President of the American Sign Language club at FSU. Kate started learning ASL her junior year at Florida State University in hopes to learn more about the Deaf Culture so she can accurately advocate for them as a Speech Language Pathologist. As the Vice president, she hopes to share her knowledge and love for ASL!
Lauren Wiele – Secretary/Treasurer
Lauren is currently a senior at FSU from Ponte Vedra Beach, FL. She is majoring in Communication Science and Disorders with hopes of becoming a Speech Language Pathologist. She holds a dual-position in the ASL Club, serving as both the Treasurer and Secretary. Besides being involved in the ASL Club, Lauren is a member of the Alpha Delta Pi sorority, National Student Speech Language and Hearing Association, and Student Academy of Audiology.
Upcoming Events
There are no upcoming events at this time.