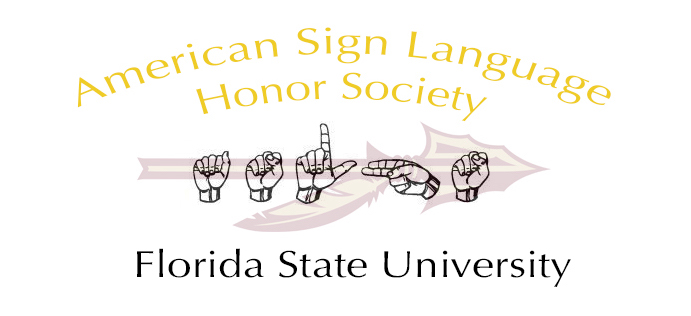 About the Honor Society
Welcome to our home page for the ASLHS - FSU Chapter.  Here, you can find information about the organization and additional opportunities of interest.
The ASLHS provides opportunities for students to demonstrate their commitment to studying American Sign Language and earn special recognition for doing so.  Students who meet nationally-established requirements alongside FSU's specific requirements are recognized with induction into the National ASL Honor Society upon their graduation.
Please note that the student-governed organization on campus associated with ASLHS will has transitioned to a less formal "ASL Club" as of Fall 2019.  Students interested in pursuing Honors will be under the direction of the ASL instructor.  Meanwhile, our Signing Seminoles program will be expanding to offer more opportunities for student involvement.  For questions and general information about any of the specific ASL programs, please e-mail kristen.guynes@fsu.edu.
Only upon graduation and having completed the ASL Honors requirements are students inducted into the National ASL Honor Society.
Please be sure to accurately differentiate these distinctions on resumes, applications, and intent letters.

National American Sign Language Honor Society – Induction anticipated upon graduation
"FSU ASL Honors" Requirements to be inducted into the National ASL Honor Society and achieve the Alice Cogswell Medal:
Completion of ASL 1-3 at FSU
Completion of SPA 3801 (Research-Based ASL Independent Studies; Admittance is competitive and not guaranteed.)
Minimum 1 semester successful ASL volunteer placement (on-campus or community, typically associated with enrollment in ASL Independent Studies)
Overall GPA of 3.5
ASL GPA of 3.5
(New for 2020-2021) "FSU Distinguished ASL Honors" Requirements to be inducted into the National ASL Honor Society and achieve the Laurent Clerc Medal:

All requirements for the traditional honors (above), plus:
An additional semester of Application of Research in ASL (SPA 3801) or Deaf Culture (ASL 2510)
ASL study must span a minimum of 3 school years, for example:

Having taking prior ASL coursework, such as in high school
Taking Deaf Culture prior to enrolling in CSD/ASL
Taking an additional semester of Applications for Research after completing two years in CSD.
ASLHS Tracking Sheet - for 2021, transcripts, and payment for May 2021 graduation are due Friday March 5, 2020 by noon.  If graduating in December, please contact Dr.K no later than October to see if medals are available.
Remember that you must meet the requirements specific to your graduation year!

Official Pledge of the American Sign Language Honor Society
As a student of ASL, I understand that language can be a powerful connection between peoples of different cultures and backgrounds, bringing them together. Henceforth, I am proud to commit to being a steadfast ally of the Deaf community. I pledge to encourage Deaf and Hearing peoples to come together in unity throughout the world. Lastly, I will reflect the ideals of the American Sign Language Honor Society in scholarship, community service, and personal excellence.